Silikatfarbe D (Funcosil® D Silicate Paint)

Vapour permeable, single component, dispersion silicate paint with a quartzite texture. Siloxane reinforced. Highly weather resistant through 'silicification' with the substrate.
Application: 내.외부용
Lime cement and cement render
Concerte
Sand-lime brick
Fair-faced masonry
Renovation coat on old silicate, lime and cement paint
Application rate:
하도:
Approx. 0.2-0.3 l/m² Silicate Primer D, depending on the absorbency of the substrate.
중도:
0.2 l/m² Silicate Paint D / smooth sand-lime brick
0.3 l/m² Silicate Paint D / rough sand-lime brick
상도:
0.2 l/m² Silicate Paint D/smooth sand-lime brick
0.3 l/m² Silicate Paint D/ rough sand-lime brick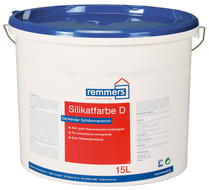 <Art No. 0630>